When promoting your products and services to the outside world, the camera lens can be more powerful than a radio campaign. Good photography can repay your original investment time and time again. You can power your brand with photography by taking the right approach to it……
61% more people have been shopping online for products and services this year than on the high street or in person. Consumer esearch indicates a whopping £99.3 billion spent.
Of course this behaviour has been boosted tremendously by the lockdown and the shift in people leaving the office to work from home. But a large chunk of that boom will probably stay with that developed approach.
Without a doubt, strong, well composed, well-lit and professionally edited images help to create online posts, websites and ads that are eye-catching.
Illustrating corporate literature also brings products and your services to life and puts a corporate face to a name. It gives customers a chance to familiarise themselves with your business, before doing business with you. That PDF or printed literature creates an identity for your brand and image that is instantly recognisable. 
Ensuring the images you use are fresh, up to date and professional is key, but commissioning a professional for the job is often perceived as a costly and unnecessary expense. 
As a result, many businesses attempt to create images in-house – and that is a risky option. Without knowing some of the tricks of the trade, do-it-yourself photography invariably results in poor quality images. Those images can give out the wrong signals to customers and make your brand look second-best to your competitors. Very often it is the lack of attention to detail in amateur photography that prompts your audience to question the quality and integrity of the products, services and personnel you are presenting. 
Cameras within our mobile phones are incredible for creating compact detailed images but the resolution & compression aren't adequate for large scale exhibition stands, or a centre spread in a publication or industry journal. We are also compromised by the installed lenses' fixed capability.
A professional photographer will be able to change the composition and story in the image just by the choice of lens. They'll also have lenses that are of professional standard, helping immensely with the quality of the resulting image. That professional photographer will also understand how to make best use of light to create the 'mood' or style for your images that your brief has described.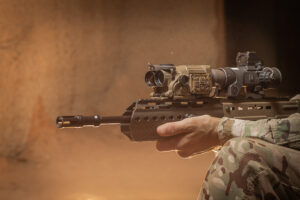 Getting corporate and commercial photography right relies on good preparation, background research and a developed sense of what you want to achieve. A brief, even a few sketches and bullet points will always be welcomed by your photographer.
The best starting point for any business is to determine how the images will be used, whether online, as part of a brochure or displayed on a billboard. By considering how the photograph will fit into its final destination, factors such as proportion and page design can be built into the planning process. When it comes to planning the look and feel of the photograph, researching styles and effects will help you to enhance the way your subject is presented. That consideration will also help you to quickly determine what level of licensing you need from the photographer and that decision saves cost!
And finally
The Web- Many people consider photography for their website to have lesser importance than other media. The "we only need it lo-res for the web" attitude persists. But have you considered that your website is your global shop window with a potential audience of millions ? Get your web photography wrong and the whole world will know in the click of a mouse….
So empower your brand with photography by taking the right approach to it……